About Us
Beck & Ness Woodworking was started in 1985 by Walter Beck and Mark Ness.
They started the business working part-time out of their garage building wooden toys, cutting boards, and wooden cars. At the time both of them were employed by a company called Thonet. When Thonet closed its doors in 1987, Walt and Mark went into business full-time.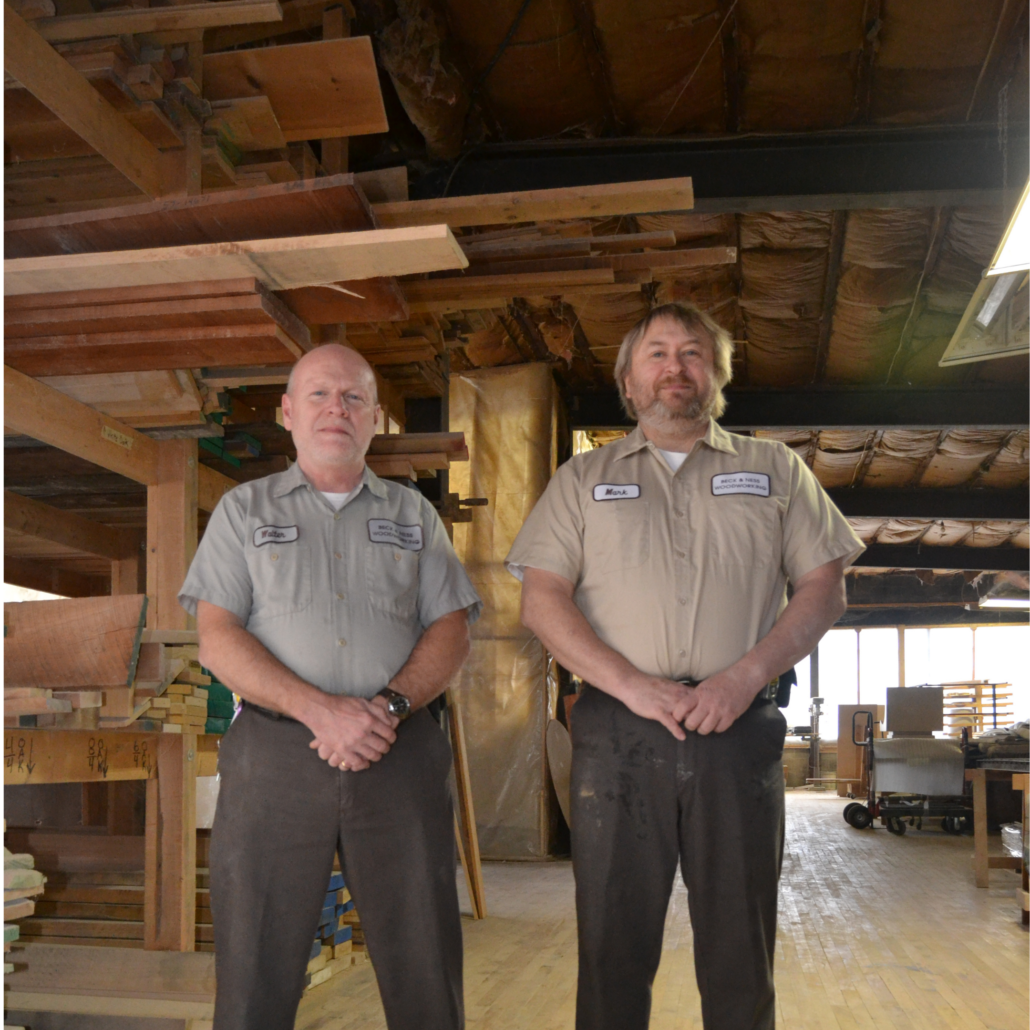 In 2010 Beck & Ness added to the business and became a Wood-Mode dealership. We now offer Wood-Mode's full line of custom cabinetry as well as our own hand-crafted custom cabinetry.
Our Location
The company's original location was a 5,000 square foot rented space at a prior ACME building in Emigsville, PA.
As Walt and Mark expanded the business grew and required more space.
Eventually they relocated to the 20,000 square foot space that Beck & Ness Woodworking currently occupies.
This historic red-brick warehouse building has been retrofitted into an expansive woodworking facility.
Our location in historic Emigsville, PA is just a few miles north of York, Pennsylvania and easy to get to from Harrisburg, PA and the surrounding region.
Our Work
Since the establishment of the business, Beck & Ness Woodworking has done a wide variety of work. From custom cabinetry in multi-million dollar homes to hospitals, offices, and nuclear power plants, we have expertise in both commercial and residential lines of work.
We specialize in custom cabinetry and also manufacture a variety of other wood products including: custom reception desks, tables, trim, doors, prototypes and tradeshow displays.
At Beck & Ness Woodworking, we not only machine wood products, we also work with many other types of materials including plastic, phenolic, and solid surfaces.
CNC Machine Work
Our state-of-the-art CNC machine features a single head with 8 tool holders and a 19 spindle drill block with a 5' x 12' table and 6" of Z travel. It allows us to manufacture parts in many sizes. We have fabricated parts with as small of a surface area as .26326184 square inch. With indexing we have been able to manufacture parts as long as 20 feet.
Our experienced staff takes pride in our ability to overcome CNC obstacles encountered with holding down small parts and would be glad to analyze larger parts in order to meet your needs.
Repairs, Restorations and Updates
We regularly perform repairs and updates such as modifying an existing cabinet to fit a new appliance or matching existing trim. If you're in need of a custom replacement door or countertops, we can help. Additionally, utilizing our finishing expertise, we can color match and stain new surfaces – such as doors and drawers – to match older ones. If you have a restoration project that requires the skills of craftsmen with eyes for detail, we're the ones to call!
From Small to Large Projects
If you'd like to update or replace an entire kitchen or bathroom or simply replace a single cabinet or countertop, please contact us to talk about your project. In addition to manufacturing our own custom cabinetry, we offer a full line of Wood Mode cabinetry at varying price ranges to fit almost any budget. Our experienced craftsmen can also provide tear out and installation services if needed or work with your preferred contractor.